A few ruins, some city trips, a little beach. That was our plan for two weeks backpacking in Guatemala. We started our adventure in San Pedro at the Lake Atitlán. From Chiapas, in the South of Mexico, there are daily buses, that take you to Guatemala. The nine hour drive didn't scare me anymore after one year in Mexico.
As we stayed in San Cristobal de las casas, only a couple of hours away from the Guatemalan border, we knew we would be able to cross it already before noon. I always try not to arrive to a new country in the middle of the night, when I have no idea about transport and the whole situation there.
Getting there and best time to travel
If you don't arrive from any of the neighbouring countries, you will have to take a flight to Guatemala. There are almost no direct flights from Europe, so the journey will take you around 16 hours.
During dry season from October til April, there is a lot of sunshine and temperatures are nice and warm. But even the rainy season is more about some short and heavy rains at night, rather than the weather being shitty all day.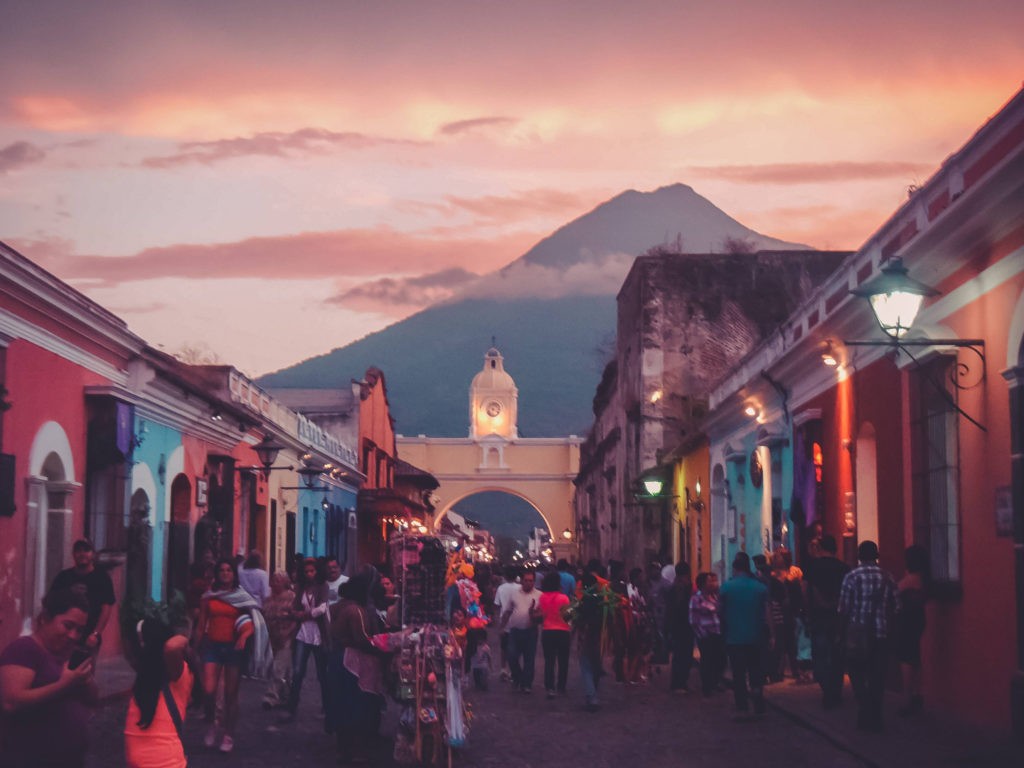 Guatemala: Useful tips
Vaccines, currency and safety: Here you will find all my travel tips!
Currency
New country, new currency. Those money exchanges in Central America are not really my favorite hobby.
In Guatemala you pay with Quetzales. I am no big fan cash usually but you should definitely exchange some money when crossing the border. Especially in small villages, even around Lake Atitlán, chances are slim to find an ATM.
Vaccines
Besides the usual vaccinations, it can make sense to get vaccinated against Hepatitis A or yellow fever. But that always depends on where and how you travel. I usually vaccinate against deadly diseases, if possible. If you don't go to live in the jungle for a couple of weeks or drink tap water all the time, the risk of a serious infection is not too high.
Safety
Before going to Latin America, people love to warn you about any possible thread or danger. Fun fact: most of the Central American countries think their neighbouring country is the most dangerous in the world. In Guatemala they asked me if I wasn't afraid to live in Mexico, while the family of my Mexican boyfriend was concerned that every country South of Mexico is potentially life threatening.
It is true that the crime rate is high in these countries - but I only got robbed once in my life. That was in Italy. When you stick to the usual safety advises, don't go out at night by yourself and watch your belongings when wandering around remote areas, things should be okay.
Guatemala was my rip-off country number one, though. People tried to take money whenever they could, never gave the correct change and offered everything way too pricy. It was pretty useful most of the time to answer in Spanish, so they would leave us alone.
Language
The official language is Spanish but at least in touristic places you get around with English quite well.
Backpacking Guatemala
Guatemala is the perfect destination for backpackers. It is cheap, ways are short and most of the budget hostels always have a free bed. Don't bother to take fancy luggage as it won't look the same after a ride on top of a chicken bus.
Shuttle o Chicken?
The first time, someone asked me that question was in Panajachel, our starting point at Lake Atitlán. We wanted to go to Antigua and apparently we had two options: traveling like the locals in an old school bus, called chicken bus or taking the more comfortable but also more expensive shuttle. Against all warnings, we went for the chicken bus, but should have started with a shorter ride for the beginning. While our luggage ended up on the roof, we gave up fighting to land on our seat neighbours lap in every curve.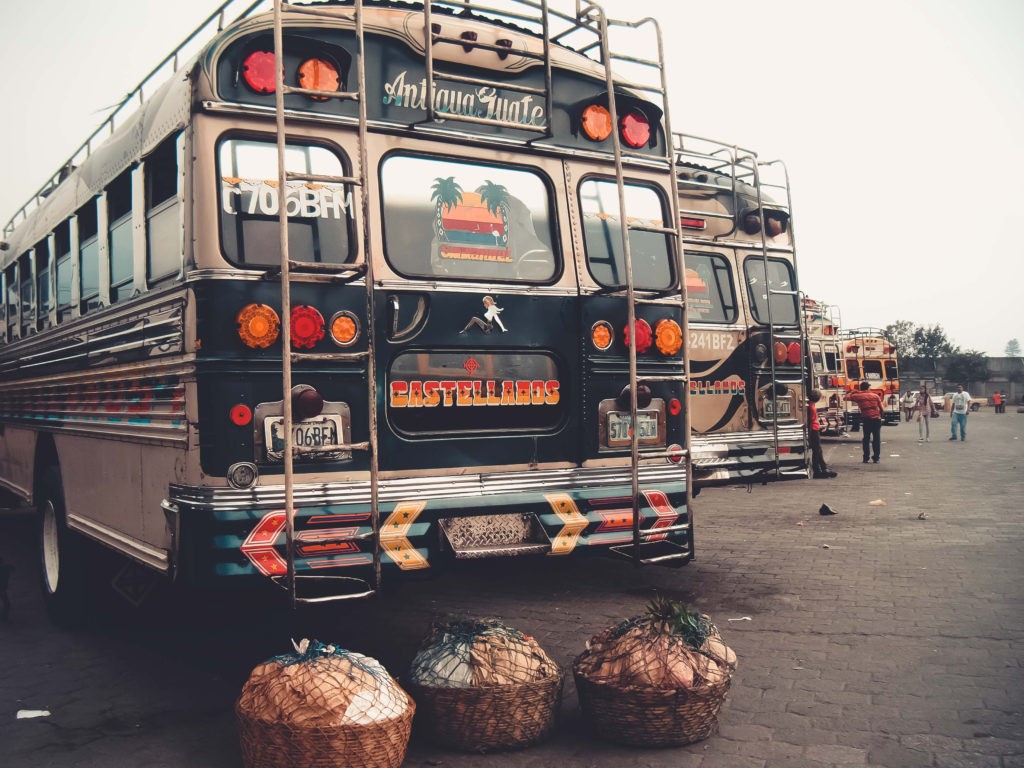 Getting around Guatemala
Find my two weeks travel route through Guatemala below!
Lago Atitlán: Most popular lake
We started our trip at Lake Atitlan in Panajachel, called Pana. There are privat boats, taking you over the lake to San Pedro or San Marcos La Laguna. Mostly they ask for a fixed price per boat, not per person. We shared our ride with some other backpackers and reached our destination after a beautiful sunset on the lake.
San Pedro
Our first hostel was located directly at the lake, 1500 high, surrounded by three volcanos, that you can all climb up. Besides that, there are so many peaceful spots around the lake, where you can relax and enjoy the view. After a short hike, you will reach San Marcos, another hippie village at the lake. I liked it a little better than San Pedro and there were fewer tourists.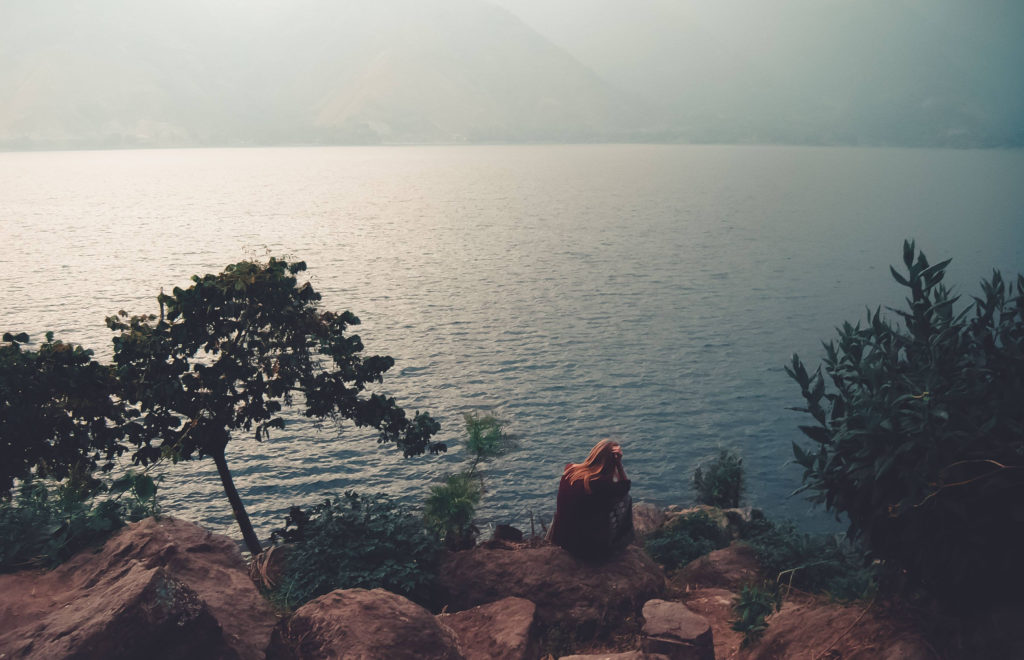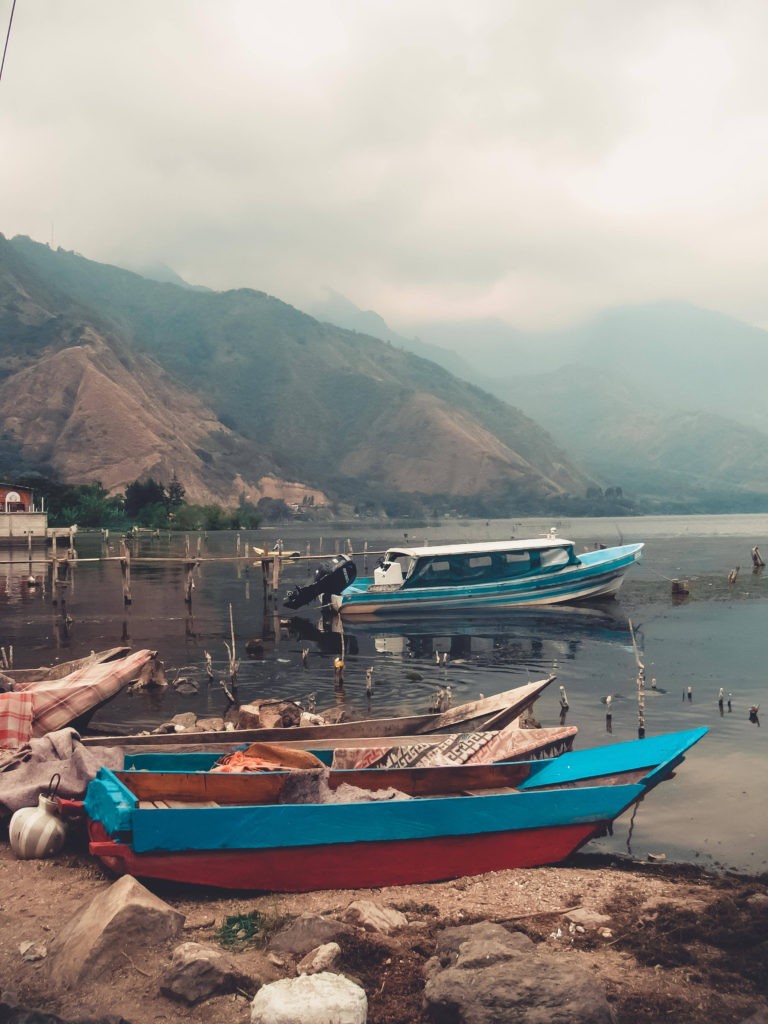 The actual highlight was the way back to Panajachel. We went on a boat at six in the morning while the sun went up above the volcano right in front of us. There we were, just the three of us, in a small boat in the middle of the lake, surrounded by pink light and we experienced the most magical moment of our trip.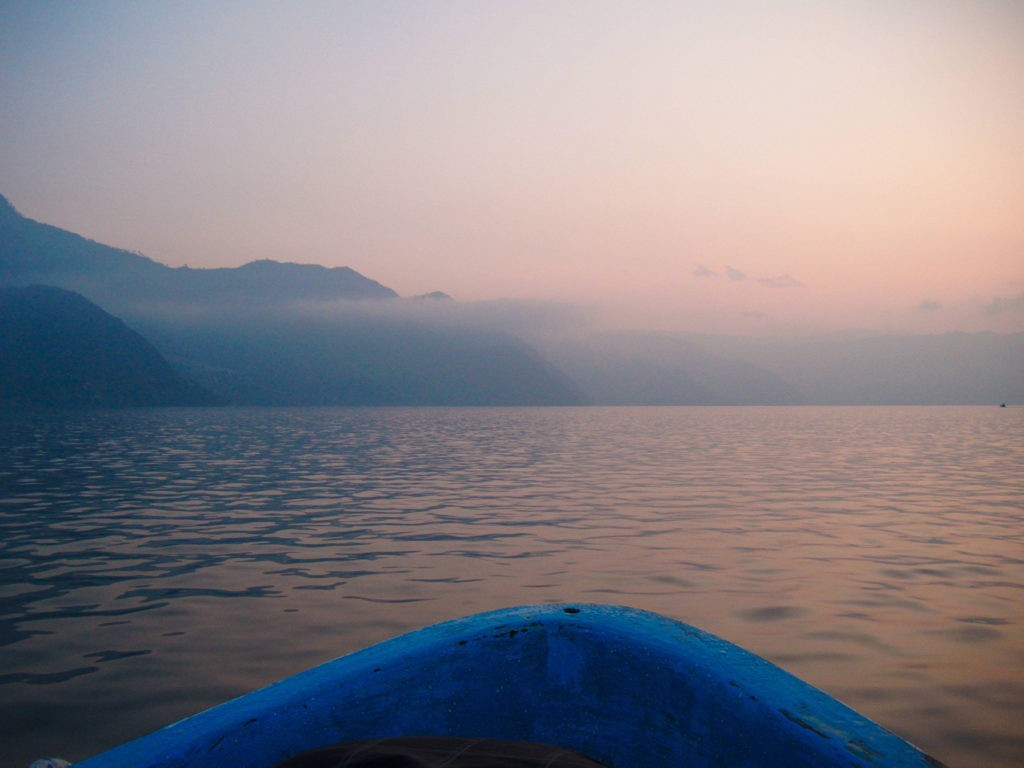 Antigua
If you spend your time at one place in Guatemala, go to Antigua. You can spend days to walk around the pretty colonial town and enjoy the food (must eat: Crepe restaurant Luna de miel). Go the city's view point for sunset and take a look at the beautiful Pacaya volcano.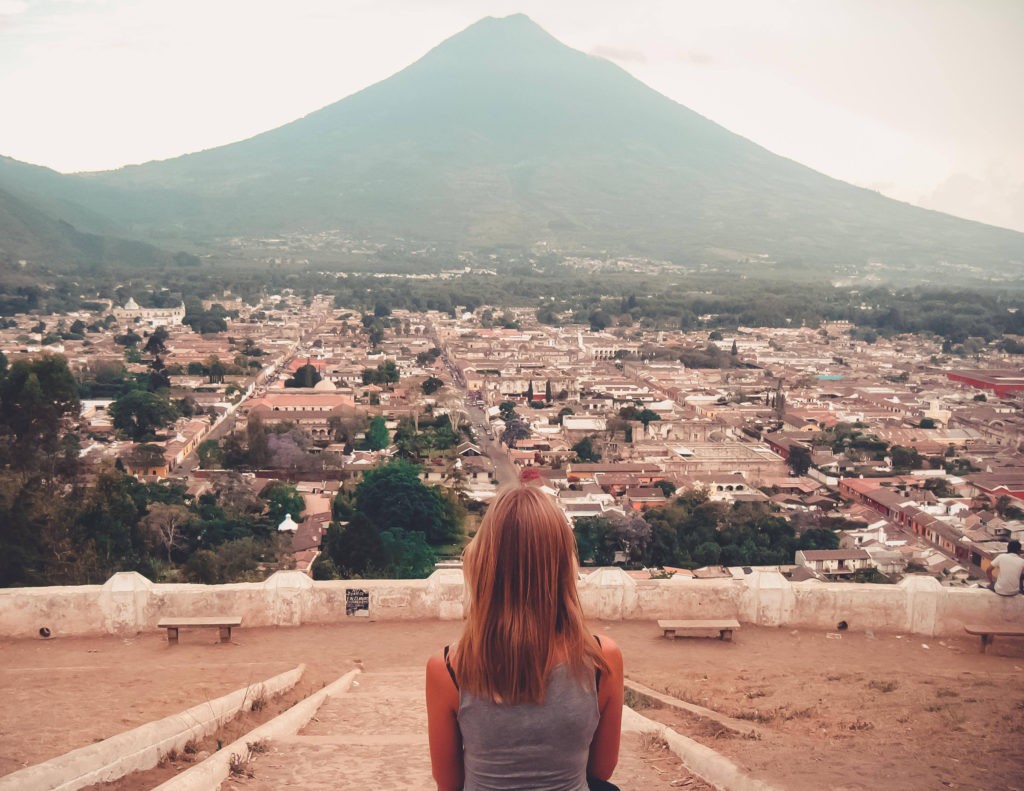 Pacaya volcano
Even better than just looking at it, is to actually climb up the volcano. The Pacaya is one of the world's most active volcanos. There is not really point of driving there by yourself, as you only pay around eight Euros to go in a minivan with three to four other tourists. After hiking up for two hours to reach the summit at sunrise, we walked over black lava for hours. Pacaya had a breakout in 2010, so we were not allowed to go up to the crater. The air that emerges from small holes between the stones is still so hot, we were able to grill marshmallows for lunch in them.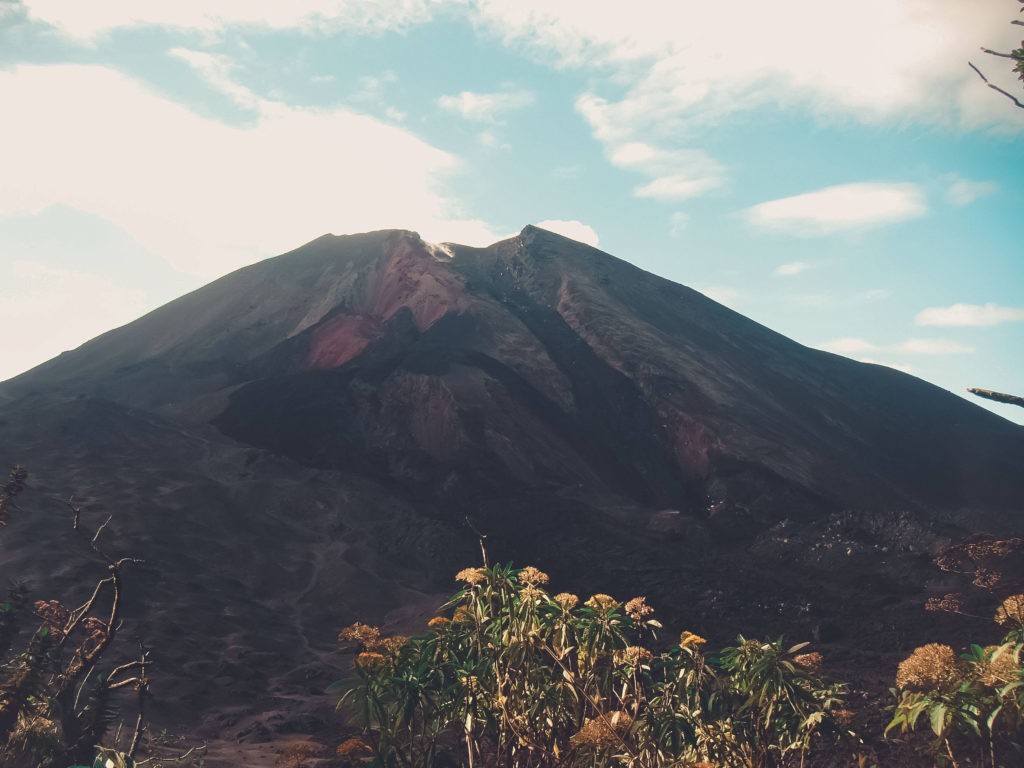 Flores and Tikal
Tip: Before we were heading up to Flores, we did a stopover in Honduras to see the ruins of Copán. It is only a small detour to go there, located half way between Antigua and Flores. From Honduras we went straight up to the North of Guatemala.
I didn't expect much more of Flores but to be a starting point from where you can reach Tikal, another Mayan site. But it is an incredibly pretty village on an island called Isla de Flores, the flower island. In two hours you have seen it all: the colorful houses, cute little streets and cosy restaurants at the sea.
There are a couple of colectivos, going daily from Flores to Tikal. We were quite late by leaving at 4.30 in the morning. If you want to reach the site before sunrise, you will have to leave latest at three in the morning. But even without a sunrise in the background, the ruins are absolutely impressive and some of the most important ones during Mayan time. We didn't take a tour, as we already had the feeling by then to know every Mayans life story by heart. It was a little hard to imagine there, how little Mayans were running around in early years because the place was full of tourists. Guatemala doesn't have as much to offer as a country like Mexico in comparison and it is way smaller. So all the tourists concentrate on very few places and if you have met people at one place, you for sure see them again on your next stop.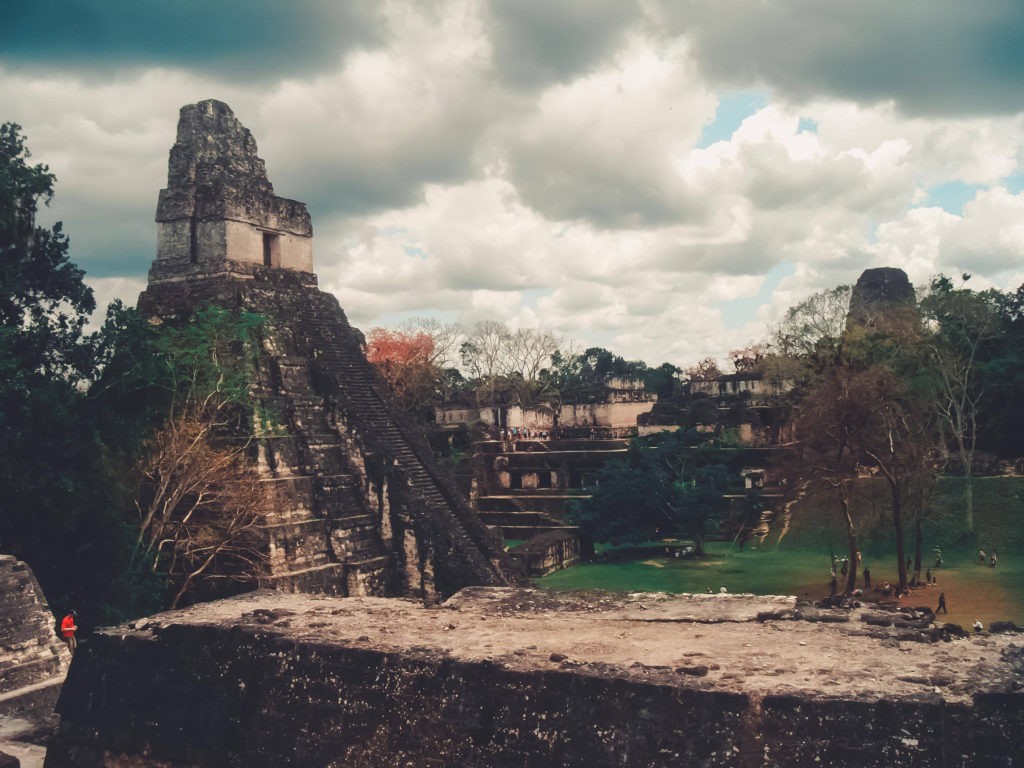 My route
San Pedro, Lago Atitlán: Papaya's Hostal
Antigua: Maya Papaya
Flores: Hotel Isla de Flores
From Guatemala to Belize
Most travelers don't just visit Guatemala but keep going South or up North to Mexico or Belize afterwards. If you stayed for more than two weeks in Guatemala, you have probably seen most of it, so it is time for a beach. There aren't any nice beaches in Guatemala but if you take a bus to Belize , which takes you like four hours from Flores, you end up right in the Caribbean.
From Guatemala to Mexico
We went to the opposite direction, from Mexican Chiapas to Guatemalan Panajachel. If you prefer tranquility and pretty beaches, you rather go to Belize or to Chetumal in Mexiko (two hours by boat from Caye Caulker in Belize). Then you made it to the Mexican Caribbean: Tulum, Playa del Carmen and Cancún.
San Cristobal de las casas in Chiapas on the other hand, is an old colonial town. Chiapas is super traditional and most of the indigenous Mexicans live there. There are no beaches but the greenest landscape you have ever seen. Chiapas is filled with lakes, waterfalls and the famous blue waters, Cascadas de Agua Azúl.
From Guatemala to Honduras
We only did a quick stop in Honduras before heading back to Guatemala. But Copán at the Honduran border also makes a perfect starting point if you want to keep going South. There are buses from Antigua and Guatemala City, that take you over the border to Honduras and mostly don't take longer than seven hours.
Bottom line
Guatemala has so many pretty corners that really surprised me. If you plan to travel Latin America, you definitely shouldn't miss this small country in the middle. I wouldn't chose it as a single travel destination coming from Europe though, as it just doesn't have that much to offer.