Are you wondering how to come up with the idea of spending your holiday in Honduras? Probably by spending an exchange semester in Mexico and looking for an easter holiday destination. So we started in Mexico and travelled all the way through Guatemala by bus to Copán. A city in Honduras famous for its Mayan site.
Where to find the ruins of Copán?
The small town of Copán lies directly at the boarder to Guatemala. So if you will be travelling in Guatemala, you shouldn't miss this super pretty Mayan site. Even if you have the feeling - like I definitely did - that you have already seen way too many ruins and pyramids by then. Starting from Copán, the ruins are thirty minutes away by bike.
How do I get to Copán?
The easiest way to get to Copán is a direct bus from Guatemala city. It will take around seven hours, waiting at the boarder included. You can either take a colectivo or a chicken bus. While in Mexico I would never advise you to take a colectivo (a small bus) for seven hours straight - it is still more comfortable than a chicken bus, one of those old school buses in Guatemala. In a chicken bus you sit even closer together and the seats are incredibly hard, so you better take it only for short rides.
Crossing boarders: Guatemala - Honduras
Travelling Central America, you will find it pretty annoying at one point that you need a visa and a new currency for every single one of these small countries. Also in Honduras it meant getting out of the bus, in line to receive the needed stamp and meanwhile getting rid of pushy people trying to make you exchange your money, just to realise in the end that they would have been your only option to actually do so.
As you can never be sure where to find the next ATM in Honduras, it is actually quite smart to exchange Guatemalan Quetzales to Honduran Lempiras already at the boarder. Even if the people standing around there with their money bags may not look to trustworthy in the beginning - the exchange rate is okay.
Where to stay in Copán
Being used to the latin american flexibility, we arrived late at night in Copán without any hotel reservation. Not a good idea though. Almost every hostel or hotel was fully booked during Semana Santa. In the La Posada hotel we were lucky enough to find the last double room in town, where we stayed for two nights.
From Copán to the Mayan site
It took us twenty minutes by bike taxi from our hotel to the Mayan site. Walking there is not really worth it because the way is not special at all and the taxis are super cheap.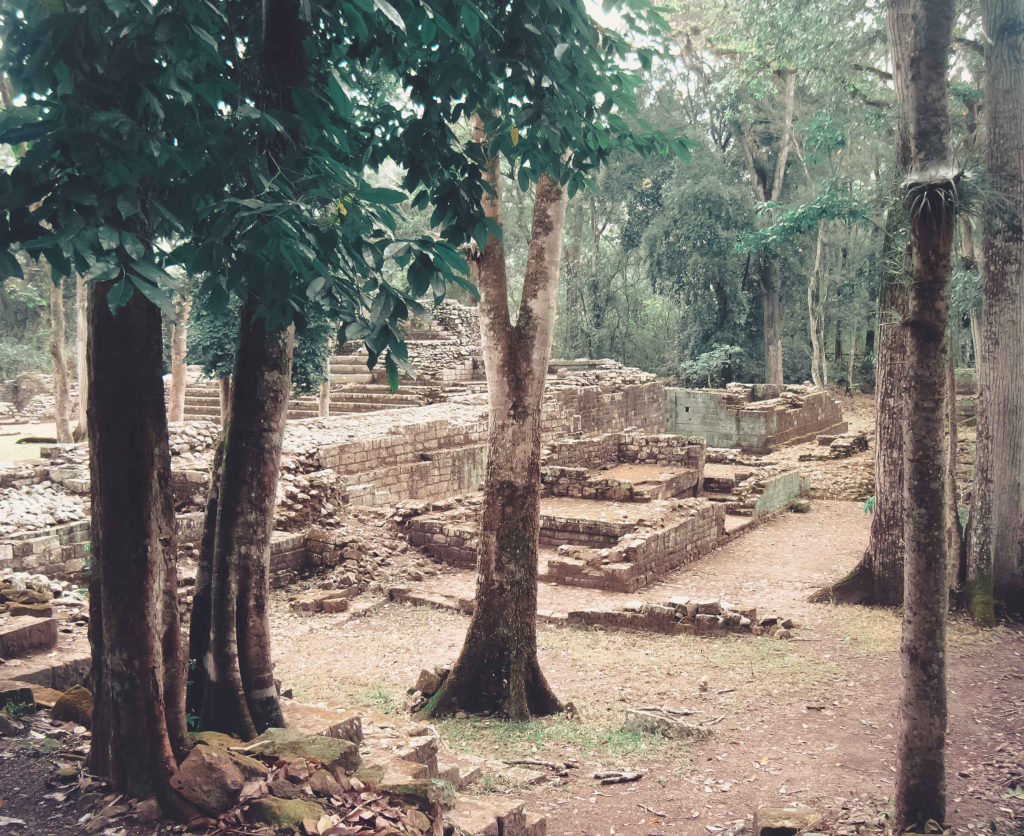 The ruins of Copán
I have to admit that I was already a little fed up with all the Mayan siteswhen I got to Copán because I felt that I had seen hundreds of them in Mexico and Guatemala. But the Copán ruins really knocked me off my feet. Beautiful ruins, spread around in the middle of the rain forest. The whole site looked so empty and lonely and instead of other tourists you could see all different kinds of animals. Countless colourful macaws were sitting in the trees around. I think it was the first time in my life, that I had seen them in nature and I was stunned by their color between all the green.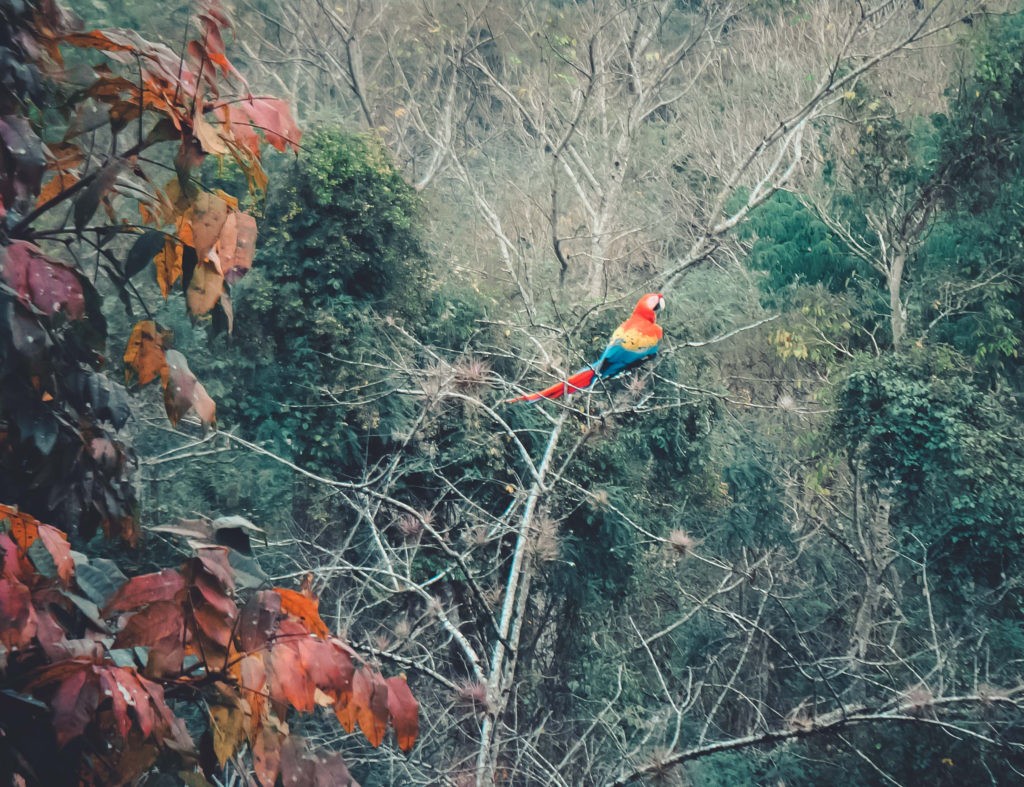 Unlike many other Mayan ruins, you are still allowed to climb the pyramids in Copán. But please, please, stay within the marked paths, so it actually stays like that. The view over the tree tops of the rain forest is absolutely incredible though.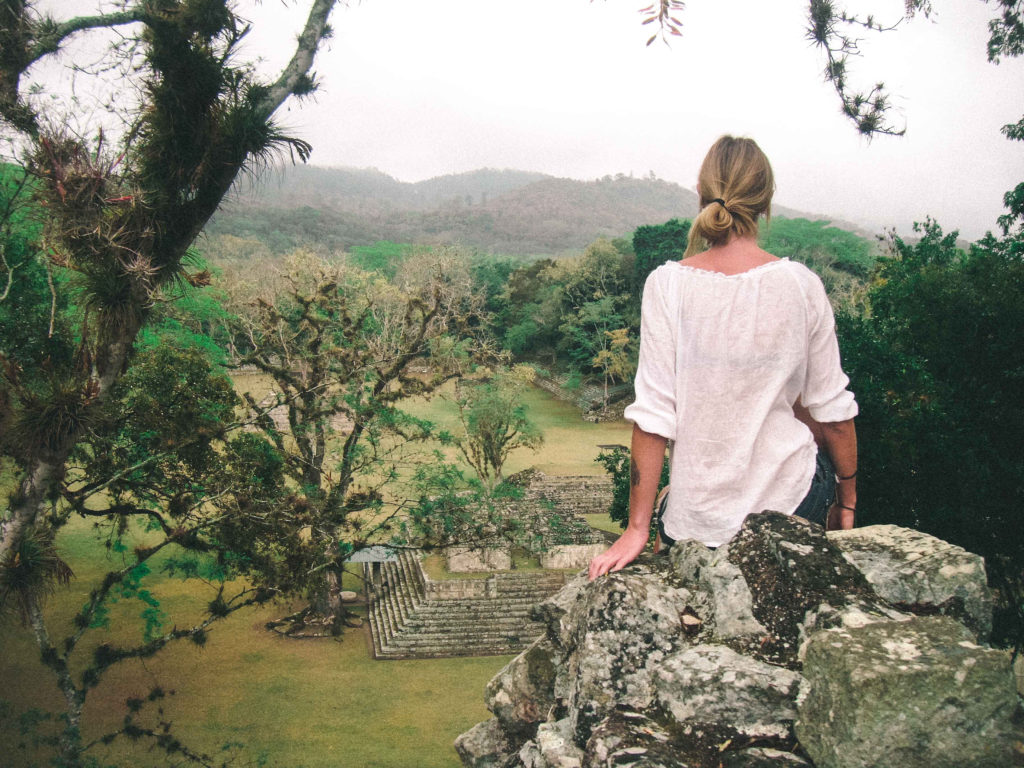 Like most of the Mayan sites, Copán is built around a central square, where you can find the famous ball court. I already heard about that story before while visiting another Mayan site:
Two teams were playing against each other and had to try to get the ball into the opposing field without allowing it to touch the ground. You were only allowed to touch it with hips, head or knees - never with your hands or feet. By playing that game, Mayans chose their next victim for their human sacrifices. As the sacrifice meant a lot to the Mayan people, one member of the winner team was chosen the lucky one to be sacrificed.
Travel info Honduras
Despite all the warnings that Honduras is the country with the highest murder rate in the world, I never even felt close to being uncomfortable. As always you should probably avoid going out by yourself as a woman at night.
The biggest problem for me during the whole trip was rather the currency chaos: changing money back and forth four times. Never in a real exchange office. I guess we lost a lot of money that way. In Honduras we only had Guatemalan Quetzales in the beginning and for one full day we were not able to find anyone who wanted to exchange money or could tell us where to find an ATM.
For travelling in Honduras you should always bring a visa card. Without credit card, there is barely a chance to receive money. The smartest thing would have been to exchange some money in Mexico already and travel with cash (even if I really don't like that). The good old traveller cheques, that my friend found in her wallet, were the ones that saved us in the end.