Aborigines, Ayers Rock and endless, empty streets - one of the most exciting routes for a road trip in Australia is probably the one through the middle. Through the Australian outback from Alice Springs to Darwin in a camper van. For two weeks we drove through the red center up to tropical regions, slept in our camper, took a bath in some hot springs and met a couple of kangaroos, aborigines and aliens. Here is my route through the outback with all its highlights.
Road trip through the Australian outback: Tips
The first question was, where to start and where to end. First thought: we go from Adelaide to Darwin and cross the whole like continent like that, from South to North. In the end we decided, that two weeks in the middle of nowhere would be enough for the beginning and we also didn't want to rent the camper for longer. As the upper half has more interesting things on the way, we started our road trip in Alice Springs.
We rented the camper directly in Alice Springs. Wicked Campers has branches in every big city in Australia, which allowed us to give it back in Darwin two weeks later. Officially it isn't allowed to go through the red, dusty streets but mostly it is impossible to avoid. Alternatively many backpackers buy a used van and sell it again before they go back home.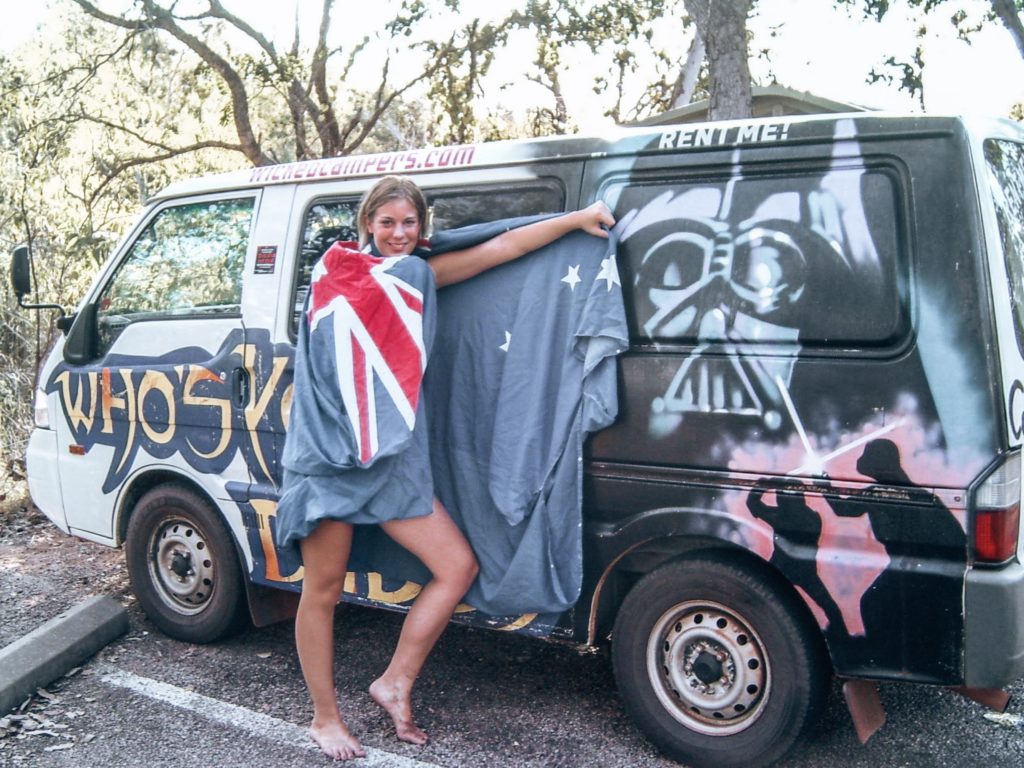 Driving by night is not a good idea in the Australian outback. The sun was just beginning to set, when a kangaroo jumped right in our car. Thank god, nothing happened and it was able to keep running right away. However, you can tell from all the dead animals at the side of the road, how many accidents there are on the long roads through the desert.
Camper Australia: Where to sleep
It isn't allowed in Australia to just park your car in the middle of nowhere and sleep there. You better stop at a camp site before it gets dark. We were unlucky a couple of times. Everything was full and so we had to park in front of a hotel, hoping, that no one would send us away. Another time, we had to climb a fence and break into the showers of a camping site as the reception was closed already. If you know when to be where, you should try to book as many places as possible in advance.
The Australian camp sites are full of dingos. These wild dogs are cute and super curious - it is better to avoid feeding them though, as they are not supposed to get used to humans.
Alice Springs - Getting in touch with the Aborigines
I used to think that Alice Springs was a normal town in the Northern territory, but I was proven wrong. We only had one night planned here, before starting our road trip the next morning and I was relieved, once we got out of the city. Alice Springs is not only an ugly city, it also seemed like a ghost town. Many of them walk through the streets completely drunk all day. You get the feeling that the Australian government would like them locked up in their reservation camps, where they don't get close to the tourists. The police appears every couple of minutes, taking away drunk people from the city center. There is not much, these Aborigines seem to have in common with the spiritual and nature bound life of their ancestors - which probably is mostly the governments fault.
Kings Canyon
Our first stop was Kings Canyon. After a five hour drive through barren lands, we reached the red center of Australia. At Kings Canyon, there are different hiking routes, that all lead to the impressive canyon. There are many view points on the way, from which you can take a look at the waterhole in the middle of the canyon. It's not permitted to continue all the way there, as this part belongs to the holy grounds of the Aborigines.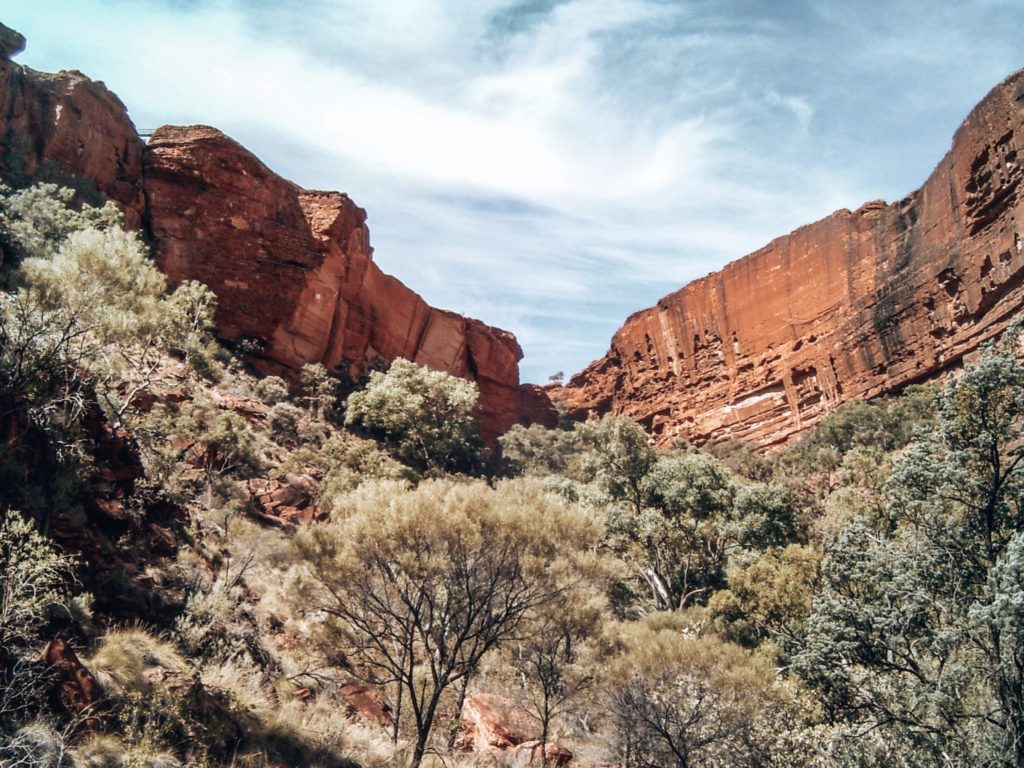 Ayers Rock – Uluru
Everyone who comes to the center of Australia is there for one reason: to see the Ayers Rock, Australias landmark. You find it, when going three hours more to the South from Kings Canyon. So it was a little detour, before we went up all the way up to the tropics.
In the Ayers Rock national park, it suddenly becomes more touristy again, after many lonely hours on the road. There are many expensive resorts, only a few minutes away by car from the famous rock. The Ayers Rock even has its own airport. I wouldn't recommend flying there directly though. You will miss a great trip through the wilderness and with that also the understanding for the state's culture.
You enter the Uluru- Kata Tjuta- national park already one hour before you reach the Ayers Rock. There you pay your entrance fee. There is no possibility to camp inside of the park. As we wanted to be at the rock for sunrise, we parked our van in front of a hotel and luckily didn't get checked.
Due to the change of light during sunrise and sunset, the Uluru changes its color from red to purple from one second to the other. It looks like someone suddenly would have dropped a bucket full of color. There are a lot of tourist buses, arriving at that time of the day, because no one wants to miss the show. Going there in your own car is really useful to save the best spot. Tourist groups mostly arrive at the beginning of the sunrise, take their pictures and leave again ten minutes later, so you have the place for yourself again.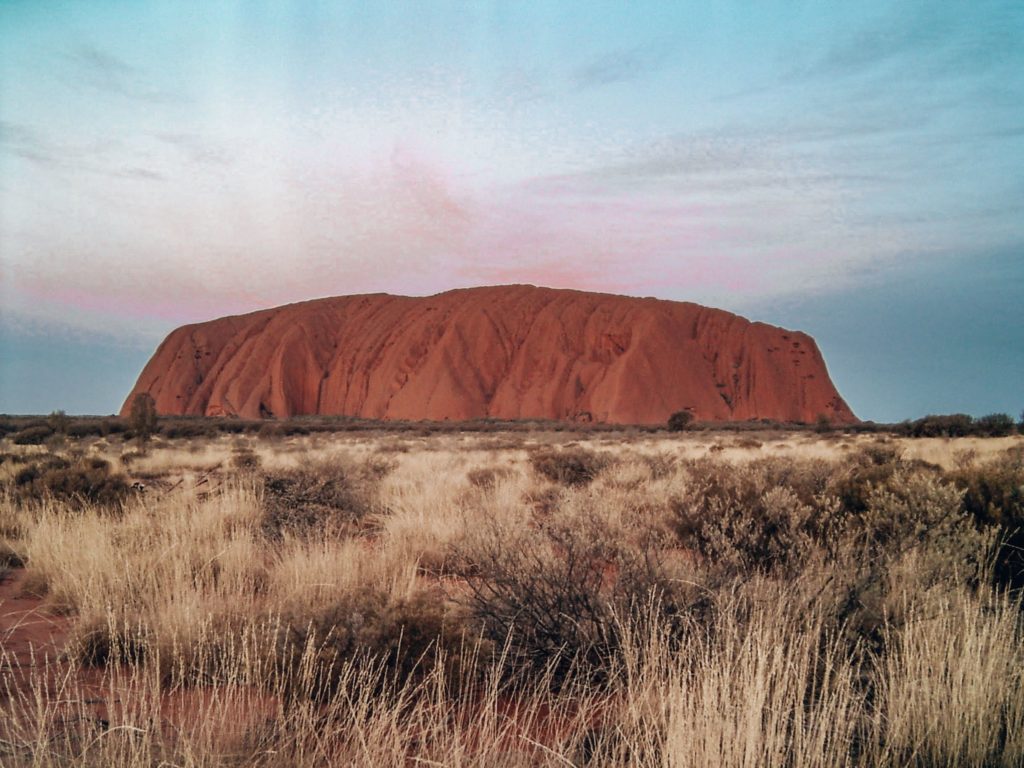 If you have more time, you can go round the Uluru. There are some hiking trails that expose its whole size. There are also some places, where you are allowed to climb the rock, but it's better to resist, out of respect for the Aborigines.
Kata Tjutas
The Olgas are another stone formation, only a couple of kilometers away from the Ayers rock. There are some great hiking routes and view points again. As temperatures can go up to 40 degrees in summer, many ways get closed to protect the tourists from underestimating the exhausting hike.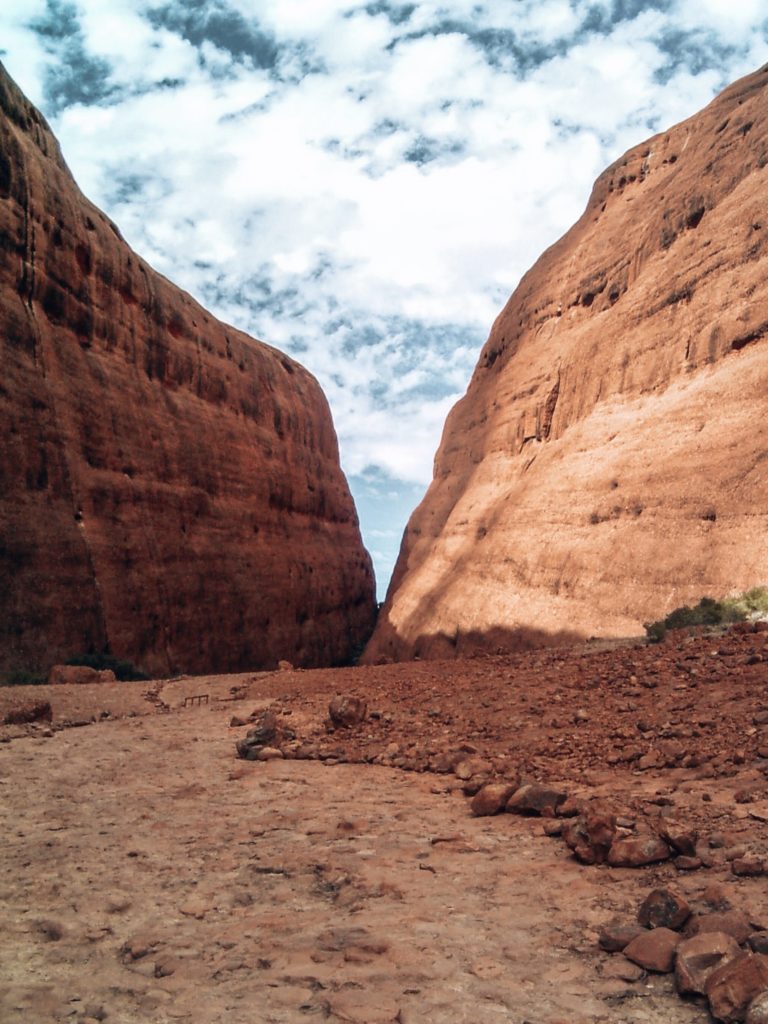 Direction North
If you leave the Uluru national park to go up North, you won't see anything but desert for a long time. Especially no gas stations, so you should get used to put gas whenever you get the chance.
On our way to the Devil's Marbles (Karlu Karlu), we didn't see another car for a whole day. If there is finally one coming towards you, everyone gets super excited, waves, honks and is happy that there are still other people on this planet.
Ufo Town Wycliffe Well
After being in the car for a full day, we wanted to find a camp site close to the Devil's Marbles, to get there early the next morning. The only possibility to park the camper before it got dark, was in Wycliffe Well.
Ufo town Wycliffe Well was completely deserted. It was a camp site with nothing on it but a couple of giant aliens and a scary groundkeeper. Not only were we the only guests here, we also got woken up in the middle of the night because of some Aborigines, who were getting into a heavy fight. So we were quite happy to be leaving the next morning.
Devils Marbles
Our next stop was at the Devil's Marbles, a stunning stone formation in the middle of nowhere. You can find it about halfway between Alice Springs and Darwin. As there are only few backpackers around in that area, we had the place to ourselves the whole time. The stones look indeed like someone would have stapled some marbles on top of each other and still they got like that completely naturally .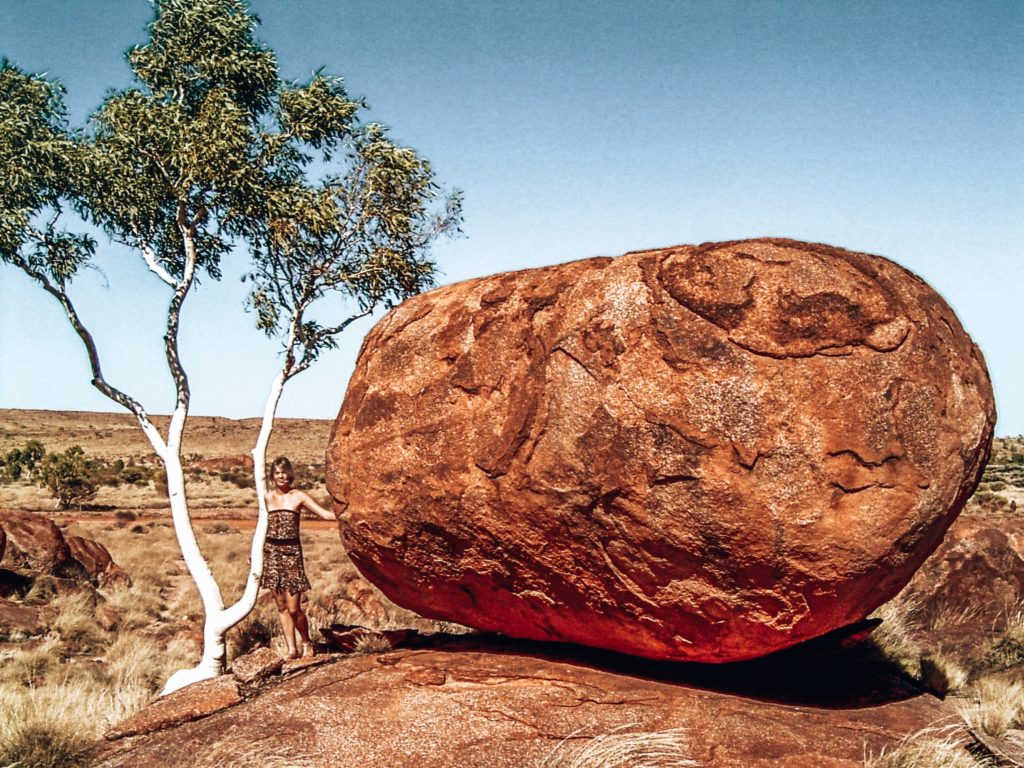 The small way that goes up from the main street to the Devil's Marbles is pretty hard to find. There is only a little sign a couple of meters before, telling you that you can turn right there.
Hot Springs in Katherine
Arriving in Katherine, I got the feeling that our road trip is coming to an end. We had left the red center behind and everything started to get green and tropical. But also up North, distances are still large. Katherine is still about a four hour drive away from Darwin and there is a lot left to see on the way. Close to Katherine, there are the first hot springs - a must-see for every natural pool lover. To get there, you turn from the highway, direction Katherine River and walk down all the way to the river and the hot springs.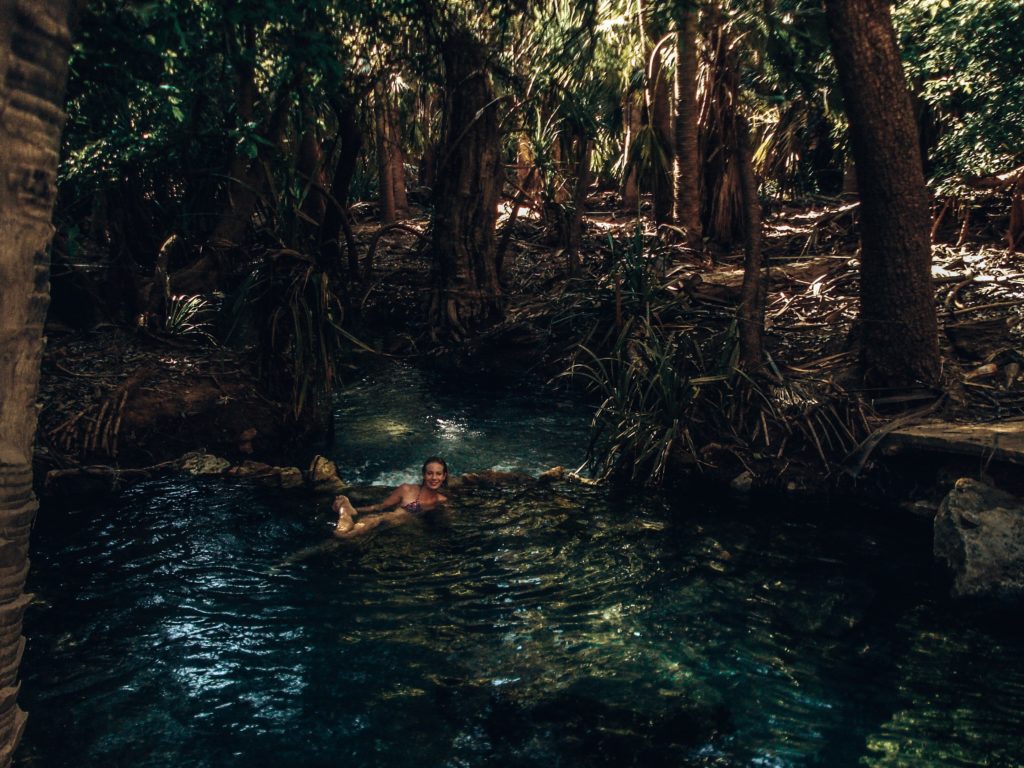 Litchfield Nationalpark
If you want, you can take a detour to Kakadu national park, once you go from Katherine to Darwin. Or you visit the Litchfield national park instead, which is on the way. You will discover waterfalls, huge tropical trees and all different kinds of animals from parrots to snakes and crocodiles. We swam in the river all the way until the waterfall and thinking back, that was a pretty dumb thing to do. There are crocodiles everywhere and since then, I heard so many times about tourists getting attacked by one.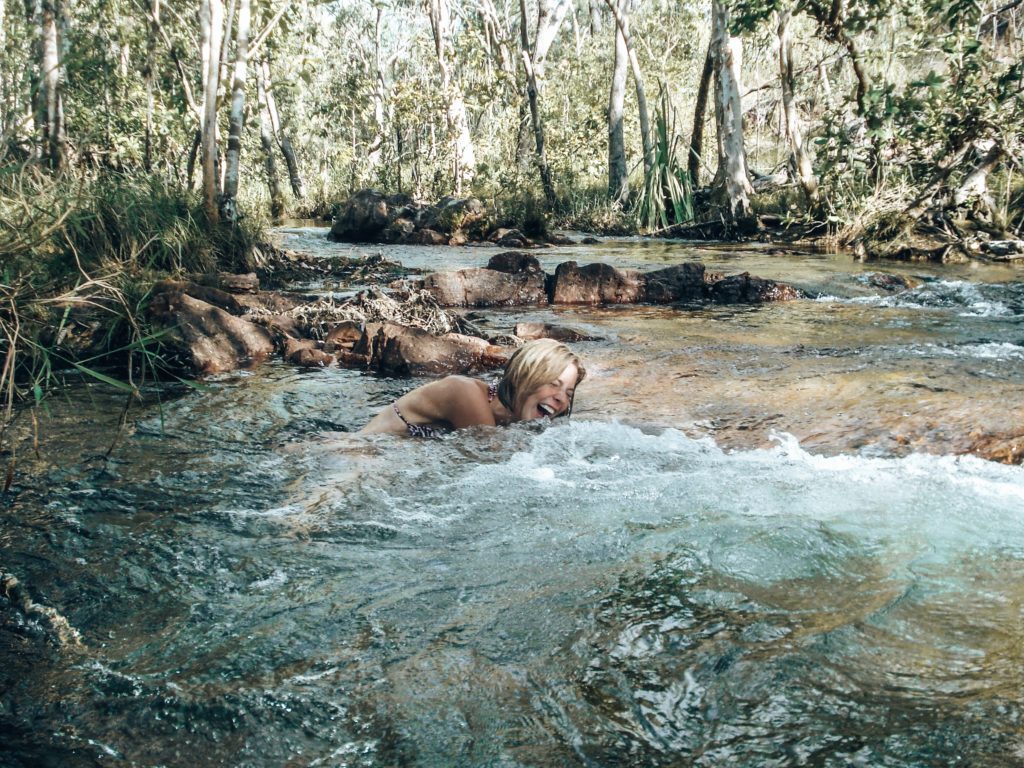 Fun fact: When it got dark, we got lost in the park with our van and it took hours, until we made it back to the normal street. We were watching Wolf creek right before we started our trip and we were convinced, the blocked road was a trap, so we kept going on the broken road.
Darwin
If you are in Litchfield, it won't take more than two hours to hours to get to Darwin. We gave back our camper the next morning and stayed for another two days in Darwin. The city is nothing special but you can spend some nice days there.
Best time to go
During the Australian winter, from April until October, temperatures in the outback are nice and warm. At night it can get a little cooler though. However, you should avoid going to the red center between November and March. Very high temperatures make it dangerous for uninformed tourists to walk around. Most of the hiking trails are even closed by the government during that time.
Outback Australia
The way from Alice Springs to Darwin is one of the most special and diverse routes for a road trip through Australia. You should take one to two weeks, try to find out where you want to sleep in advance and avoid going by night. Your outback adventure will be an unforgettable experience.
Are you looking for more routes for a road trip in Australia? Also read my travel guide for the Australian east coast.