I think it is common knowledge by now, that India isn't for everyone. People seem to either love or hate it. Until India I always considered myself to be immun against culture shocks and open towards every new country. But India wanted to test me. Now I have to admit that I belog to the second group and I don't think that I would like to visit the country again.
Route: Delhi - Agra - Jaipur - Jaisalmer
This route is well known for India beginners. As we were going to Goa after our stay in the North, we extended it a little and went until Jaisalmer. The way is perfect for two weeks. Alternatively you just go back to Delhi from Jaipur.
Visa
You need an electronic visa if you want to go to India. You can apply easily from home and then be able to travel for 365 days.
Currency
In India you pay with rupees. It definitely is the country with the most complicated exchange rate as one Euro equals 81 rupees. Prices seem to be so high that you never realize if something is really way too expensive. And India is a super cheap country to travel. The price for a double room is mostly not even ten Euros.
Time to travel / weather
The best time to travel is from October to March. It gets a little cooler in winter but after April temperatures go up to more than 40 degrees. We went there at the end of September and still got into the rainy season. That means very high temperatures, high humidity and flooded streets.
Vaccines
There are no mandatory vaccinations for India but as always they recommend you to vaccinate against Hepatitis, Typhus and Rabies once you travel through poorly developed areas.
Food in India
One point at the pro side was definitely the food. Maybe I haven't eaten at a really good Indian restaurant before but Naan bread, spicy Chutney and Lassies were incredibly tasty here. No matter if we got it from a street stand or a restaurant. I am lucky to love and also tolerate very spicy food as things are realllly spicy here. Especially for vegans and vegetarians, however, India is paradise. There is almost no meat there. As most of the people are Hindus, it is not allowed to eat beef anyways because they are holy. The Muslim part of the population doesn't consume pork instead.
Transportation
Depending on where you go, you either take the train or the bus. From Delhi to Agra it is worth to go by train as the way is much prettier like that. Make sure, that you buy the correct ticket though. There are counters at the train station that are for Indian citizens only.
All the other trips we did by bus, but especially the 17 hour night bus from Jaipur to Jaisalmer was anything but recommendable. As a woman it isn't smart to take a night bus in India anyways and on top of that, the seats and streets are so bad that I didn't sleep for a second. And I wouldn't say I have the highest standards when it comes to night buses.
For shorter rides within the city, you can just take a rickshaw, that you can stop anywhere in the streets. They take you quite comfortably and for little money to your destination.
If you want to go in a real taxi, you should stick to official taxi stops or order a taxi at the airport or the reception of your hotel. There are many black sheep among Indias taxi drivers.
Alternatively you can get a private driver for longer distances. We spoiled ourselves with one from Agra to Jaipur, when we were more than fed up with public transport.
Solo traveling India as a woman
We were two women and even like that, traveling without male company was a nightmare. Even if you are used to a certain machismo from other country - there is nothing as bad as India. I never felt unsafe or uncomfortable anywhere but there. Constant starring and even touching seemed to be completely normal for Indian men and most of the time they were lacking respect big time. I think this is the main reason why India won't be warm memories, ever.
Delhi
Best expression for our first day in India: a complete overload. We arrived late at night, were overwhelmed by the humidity, the smog and the masses of people in the streets and we didn't get to book a room before we entered a taxi. Delhi was the only time in India, that we went for the Lonely planet budget option. Budget in India means giving up any possible standard. The room was only a dirty mattress on the blank floor, the shared bathroom was a hole in the floor that was used as a toilet and shower at the same time.
After a change of hotels the next day, it took us all morning to book a train to Agra, as the water in the streets went up until our knees and we got sent from one place to another until we were completely lost.
Conclusion after two days in Delhi: there are some nice sights, like the red fort, that are worth visiting but in general we were happy to be out of the city.
Taj Mahal: Agra
In the train from Delhi to Agra we were able to unwind a bit, despite very pushy Indians again. Agra felt like an oasis after a hectic start in Delhi. From our hotel we were able to walk down to the entrance of Taj Mahal.
The Taj Mahal is of course one of the most popular places to go for tourists and still it seemed like the Indians there had never seen a European before. Every second person wanted to take a picture with us and some people even put their children on my lap without asking, to take a picture of that.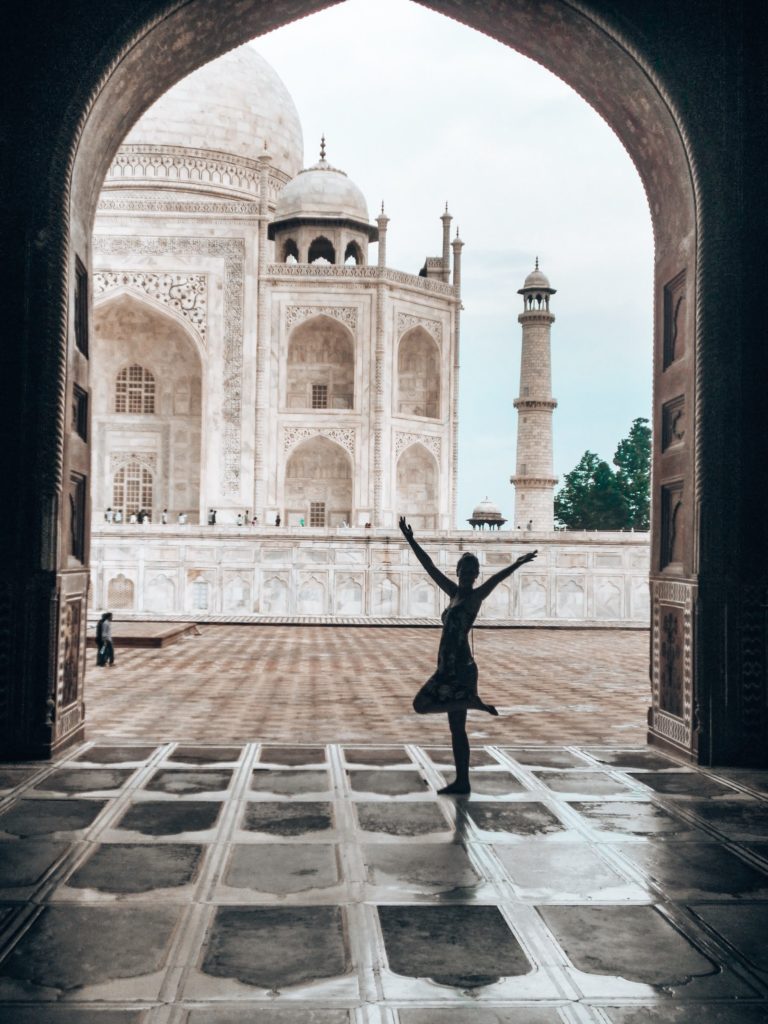 Jaipur
Besides the Taj Mahal and the fort of Agra, there is not much else to see, so we continued our way to Jaipur the next morning. Jaipur is calmer and less touristic than Delhi or Agra and has a total different vibe. By rickshaw, we went to Amer Fort, a big fortress above the city. All the way down, there are elephants waiting for tourists to carry them up the way to the fortress. They are supposed to be from an animal welfare farm but obviously they don't look like they get treated too well. Save the money and walk up there. There are many cute corners and beautiful little streets on the way.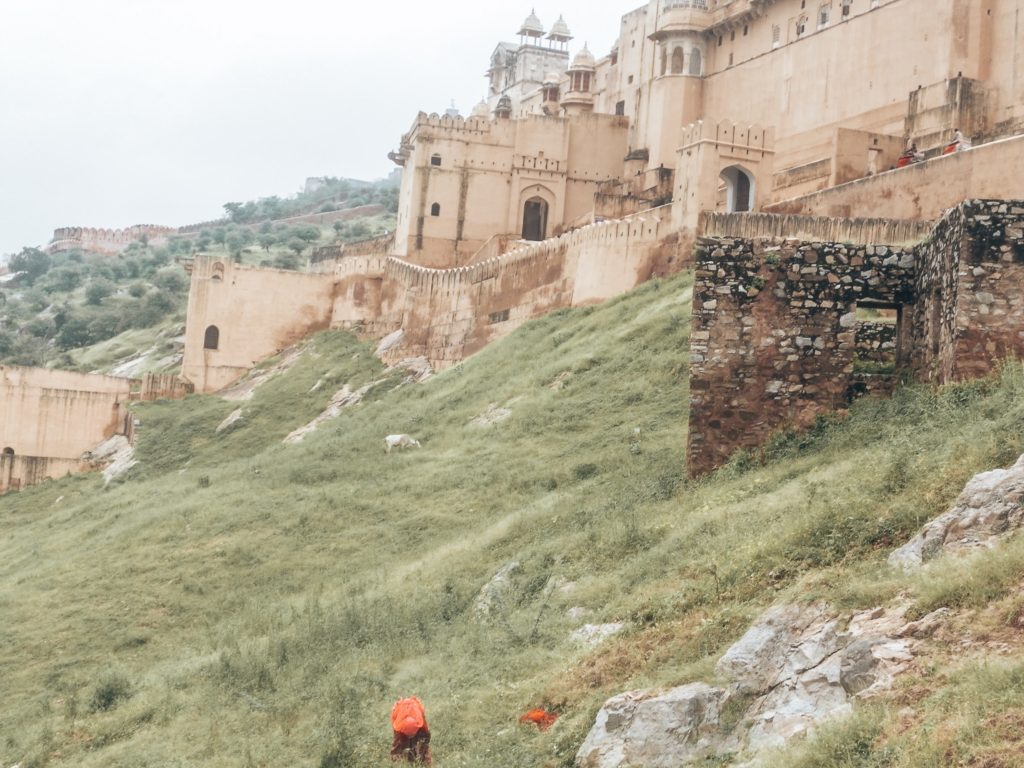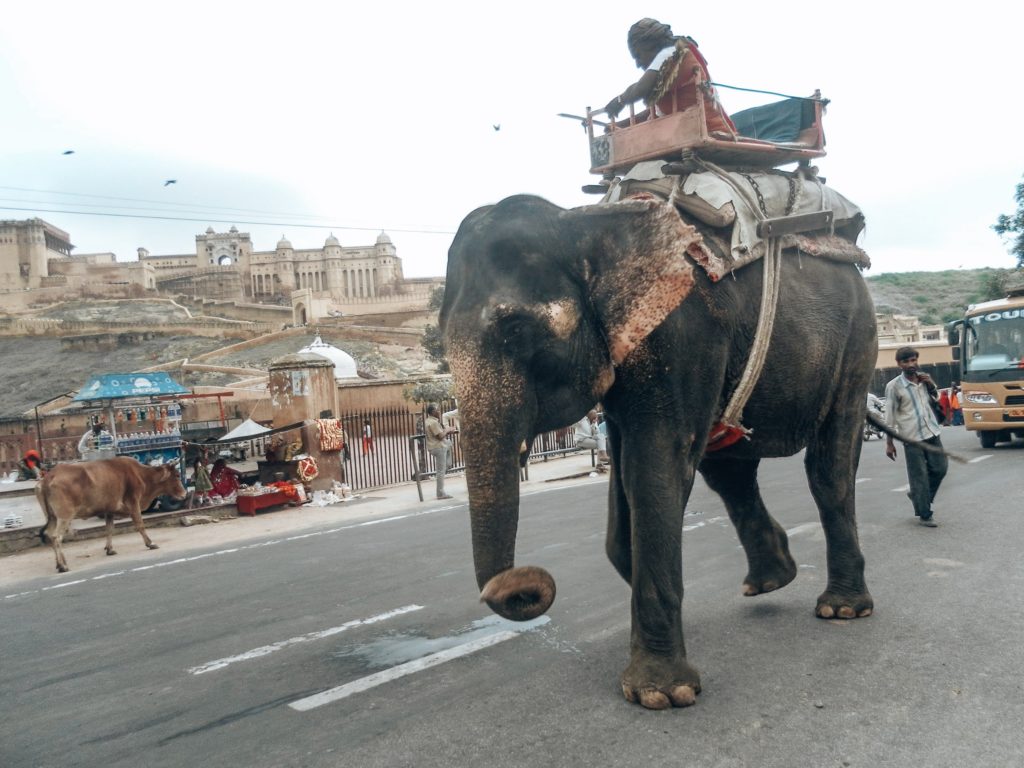 Jaisalmer
After a horrible night on the bus, we were able to at least find a great guest house in Jaisalmer. At Ruchi's we got a double room and Naans and lassies for breakfast - for only six dollars a night.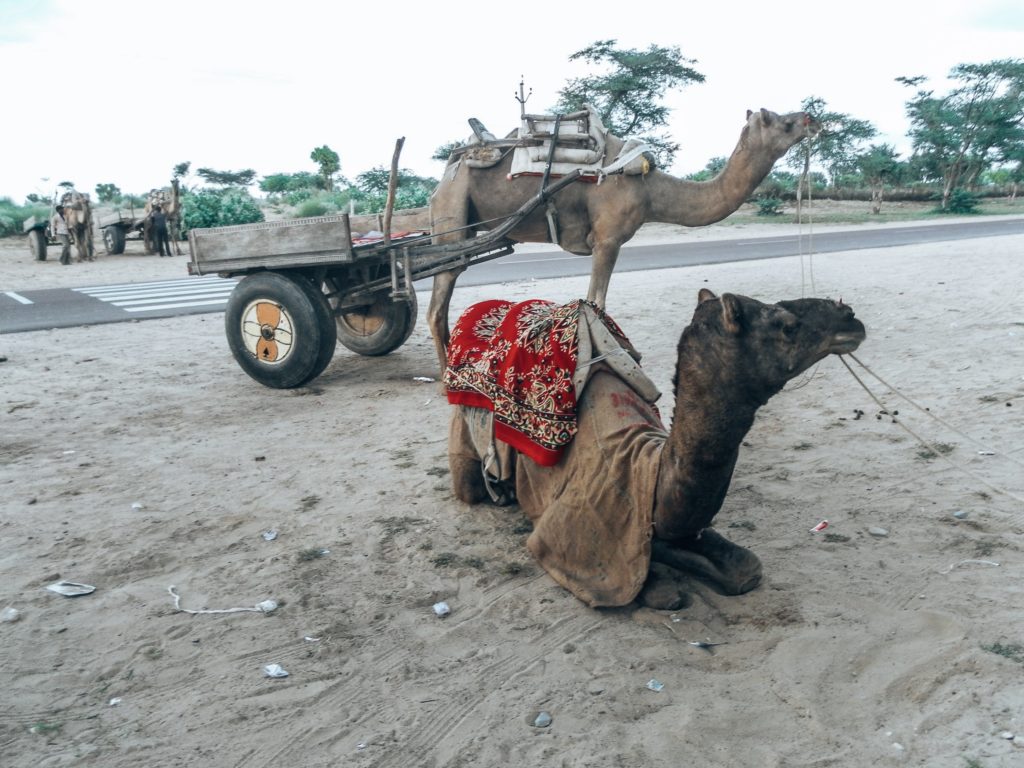 In Jaisalmer we did a tour through the desert near the Pakistani boarder with our host and visited the Jaisalmer fort. Because our rickshaw driver recommended it, we also went to see the temple of rats. That turned out to be a church with thousands of rats living in there. The floor is covered in rat poop, which doesn't stop anyone from going in their barefoot to show their respect to the rats. They are, according to an old myth, holy.
India thoughts
There are some nice places and also some nice people in India. However, I wasn't impressed by neither the country nor the mentality of the people. If I would ever go there again, only with way better planning and with a male travel partner. If you plan to go to India, book all your tickets and places to stay in advance - something that I don't like, usually. In India it will save you a lot of time and trouble.