I lived in Ghana for two months to teach English in an elementary school before I started travelling the country. Like that I got to know the people and their culture, which made the trip afterwards so much easier. Here you'll find my two weeks Ghana itinerary and all my travel tips.
Are you not sure yet, if Ghana is the right country for you? Read my 10 reasons why you should visit Ghana!
Ghana route
Two to three weeks are perfect to get to know all the beautiful places of the country without rushing. Here is my route, including great beaches, national parks and the most important cities.
Hotels on the way
Accra: Labadi Beach Hotel
Tamale: Best Lodge
Mole Nationalpark: Zaina Lodge
Akwidaa: Safari Beach Lodge
Cape Coast: Kokodo Guest House
Kokrobite: Big Milly's Backyard
Kumasi: host family
Best time to travel
Except from the rainy season between April and June, Ghana is always warm and dry. In March we had temperatures over 35 degrees Celcius. It is super humid though, so actually you sweat the whole time.
Ghana Safety
The first question you get asked when you tell people that you went to Ghana, is how safe it is to travel there. The African continent doesn't have the best reputation when it comes to political stability or safe destinations. Ghana is considered one of the safest African countries though and from my experience I can only agree. Even bus rides during the night or walking home by myself in the darkness were never a problem and I didn't feel unsafe at any time. As a female solo traveler, men ask you a lot if you want to marry them and they are dead serious. However, no one got really pushy or didn't accept a "No, thanks!"
Ghana language
Even if English is the official language in Ghana - it isn't anyones mother tongue. The majority of the Ghanaians, especially older people or people from the countryside don't even speak single words. In touristic places or on the markets you will be able to get around with English but be prepared to use your hands and feet to communicate.
There are more than fifty official dialects in Ghana - a different one in every region. Before we started working in Ghana, we learned a bit of the Ga dialect. People are always happy when you try to talk to them in their language and are more than motivated to help you out.
The Ghanaian government took on the task of teaching English to the children already in the kindergarten and to do so, they use volunteers from Europe or the States. I was surprised how well little children talk English compared to the older people.
Ghana Visa
You should apply for a visa through the Ghanaian embassy at least two weeks before going to Ghana. You need a passport that is valid for at least another six months and a plane ticket. Also you have to prove that you are vaccinated against yellow fever. Without that, there is no chance of entering the country. If you don't have a return ticket yet, you have to also prove that you have enough financial resources.
Vaccines
Besides the necessary yellow fever vaccination, we got vaccinated against Typhus and rabies. We also carried some malaria prophylaxis, as the malaria risk is pretty high throughout the year. Many insurances cover the costs for a prophylaxis completely.
Ghana currency
One Ghanaian Cedi is about sixteen Cent, which makes calculation quite complicated.
Outside of the big cities, it is recommendable to carry sufficient amounts of cash as there aren't many ATMs or possibilities to pay card. It also happened that I couldn't get cash out of an ATM because there was just no money (and that wasn't my bank accounts fault for once).
If you carry a Visa Card, you shouldn't have any problems, especially in the cities.
Ghana food and drinks
I couldn't wait to try Fufu, the Ghanaian national dish. It always looked so yummy, like raw cookie dough. Well - it is nothing more than mashed yams and plantains with the consistency of chewing gum. But there were so many other dishes I couldn't get enough of: the spicy Jollof rice or Red Red, fried plantains with beans that you get at every street corner. Ghana is a paradise for everyone like me, who loves to eat spicy and tasty. In some restaurants in the bigger cities they also serve pasta and pizza if you have a more sensitive stomach.
There is only one way to buy packaged water in Ghana. It comes in small plastic bags, that you have to rip open with your teeth and drink them like a juice box. Try not to worry if the water has a different - sometimes really weird - taste every time. We didn't get sick drinking it.
A cooking class in Accra gave us a complete different insight to the country's culture. I always get the feeling that you don't really know a country before you know the traditional cuisine.
Ghana travel tips
There are certain things that are completely different in most of the African countries, so you should be prepared. Even in a modern capital like Accra it is completely normal, that people poop in the road ditch next to you, no matter how crowded the street is. Therefore the smell in some places isn't that nice in Ghana.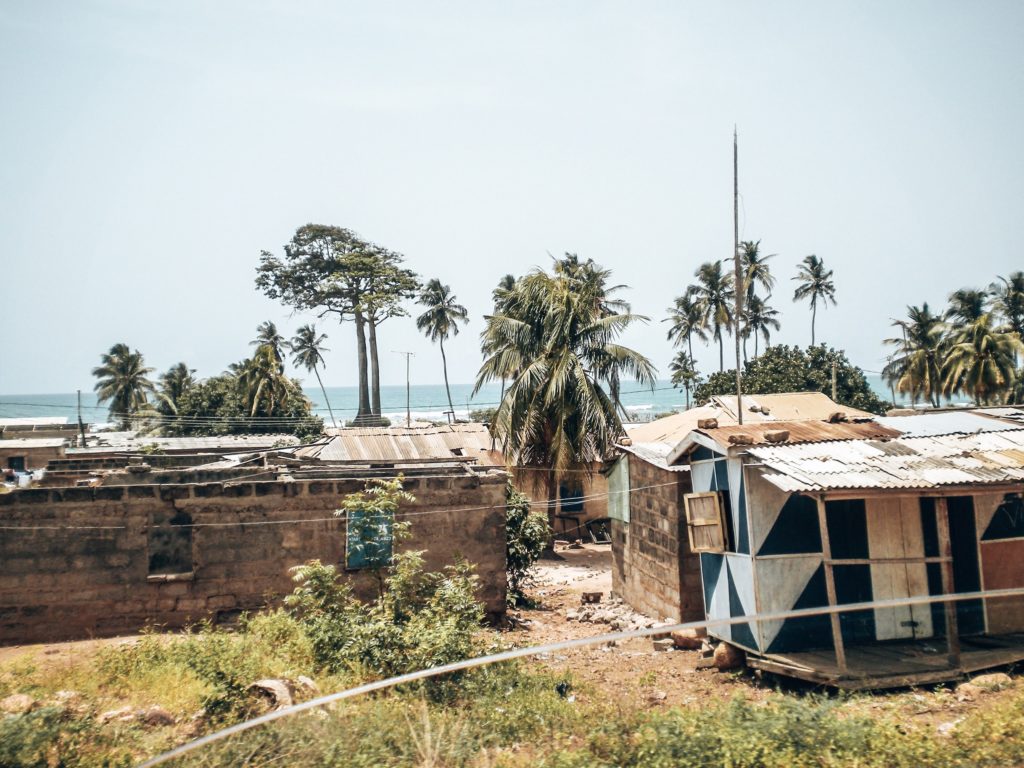 There is no running water, except in really big hotels and even there, the water flows everything but reliable. It happened a couple of times that I was sitting around for two hours with shampoo on my head before the water came back, which made me wish we would be back in the countryside so I could just get it quickly from the well.
Don't be surprised if people ask you, if you want to take their child back to Europe with you. Ghanaians consider Europe to be paradise and would immediately send their children there. And the children were thrilled about the idea. My host dad wanted to send his wife with me to Germany just so "she is there." Even if life in Ghana is more comfortable than in other African countries, most Ghanaians would leave everything behind for a potential better life in Europe.
Luggage
If you travel in remote areas, a mosquito net is obligatory. There are hundreds of mosquitos at night and they are huge. As all parts of Ghana are at high risk of malaria, you should protect yourself.
You will need clothing that is light but covers your arms and legs and trekking shoes for longer walks through the jungle. If you travel between April and June, don't forget a rain jacket.
Obruni, Obruni
If you are white, you should get used to one word when traveling Ghana: Obruni. Obruni means white person and you will hear it everywhere you go, from little children as well as from the grandma in the street. Even at the train station they called us like that through the speakers. Ghanaians are super interested in white people and most of the kids see a white person for the first time in their lives. I got asked a lot if people were allowed to touch my arm or may hair. If you don't want that, don't be afraid to say that.
Shopping in Ghana
Life happens at the markets in Ghana. There are almost no real supermarkets in the country. The food on the markets is super fresh and cheap but if you run out of hygiene products, you might have a problem. Accra is the only city where you can find a shopping center with clothes and drug stores.
Transportation
The most popular way to get around are the so-called Tro-Tros - vans, that seem to be able to carry a limitless amount of people. You will be surprised how many people fit in there. Although Tro-Tros run between cities, I would prefer shorter trips as it gets hot and uncomfortable in them very quickly. Tro-Tros stop at the side of the road, wherever you want to get in or out. You just have to lift your arm.
For long-distance rides, better take a big bus. They are more comfortable than they look like and even going overnight is not too bad.
Single taxis are not necessarily more comfortable or safer than Tro-Tros. Most of the cars don't have windows anymore, not even mentioning a radio, an AC or anything for that matter. Looking at all the dents and scratches, you get an impression about how many rides in a taxi you will survive without getting into an accident - none. And that isn't much of a surprise with the crazy traffic in Ghana.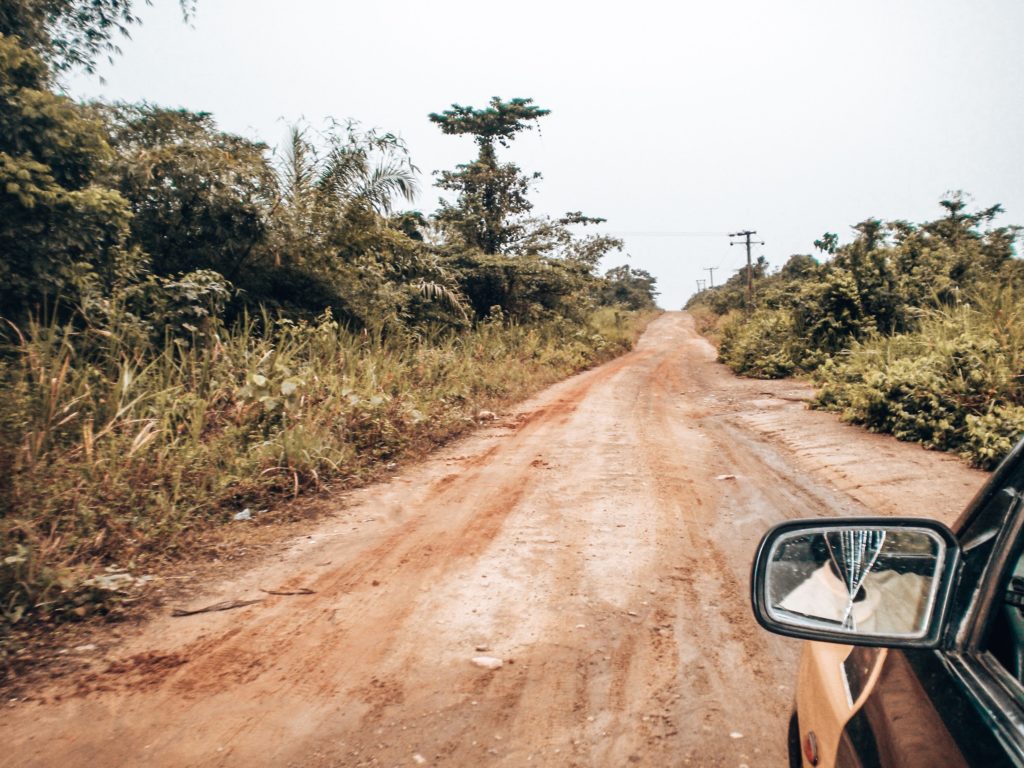 Ghana travel summary
Ghana is the perfect country for Africa beginners. People are friendly and helpful, the crime rate is lower than in neighbouring countries and the country offers enough sights and activities to keep you busy for a couple of weeks. As Ghana is quite small, distances are short and you easily get from one point to another.
Are you ready for paradise beaches and culture? Enjoy my route through Ghana!