One car, two children, 2000 kilometres - that was our three-week road trip through Morocco. Actually, it was only an emergency solution, because my sister, six months pregnant, didn't want to fly to Vietnam anymore, as originally planned. Morocco was my first trip to an Arab country and I was more than positively surprised, both by the people and the spectacular landscape. Are you looking for tips for your trip to Morocco? Then read on.
Morocco in a nutshell
Morocco is not even four hours away from Germany by plane and yet a completely different landscape and culture awaits you. Whether Marrakech, with its oriental markets or the drive through the Atlas Mountains, further through huge canyons until you finally land in the foothills of the Sahara desert. Be prepared for a complete overload of the senses.
Morocco travel time
Basically you can travel to Morocco all year round, but of course there are always months that are better than others. We were in Morocco in April, which was the ideal time to travel, considering the climate. But it was right in between Ramadan, which gave us some minor limitations. In the summer months, from May to September, it not only gets unbearably hot with forty degrees Celsius - which makes sightseeing, especially in the bigger cities, not very pleasant - you also have to expect sandstorms in the desert.
Ramadan
Being in an Arab country during Ramadan, the Islamic month of fasting, has its advantages and disadvantages. On the one hand, you should limit yourself a bit and out of respect avoid eating in the streets during the day. Furthermore, many restaurants, especially in smaller towns, do not open before sunset during this time. On the other hand, it is exciting to watch how Moroccans turn every dinner into a feast, sit together by the dozens every evening, celebrate, eat and drink until it gets light again. Although I wondered from time to time if this is really the purpose of fasting, it was definitely interesting to witness the whole thing.
Entering Morocco
German tourists don't need a visa to fly to Morocco. You only get an entry card on the plane, which you have to fill out before your arrival. In some cases the border police will ask you a few more questions - and that's it.
Morocco - Where to stay
In Morocco, you typically live in a traditional riad, a multi-storey building with a courtyard, which is usually open to the inside. On the ground floor there is often a small pool and at the top, a magnificent roof terrace. Most riads look absolutely unspectacular from the outside, while inside there is a real oasis hidden. As we were six people, we sometimes even rented a whole riad for ourselves. The abundance of offers for great and cheap accommodation is higher in Morocco than anywhere else and it is worthwhile to stay here in style. Partly we also took a room in a bigger riad or, as in Fés, we stayed in an Airbnb apartment.
Food and Drinks
My absolute favorite meal in Morocco was breakfast. You get that in almost every accommodation, even if you rent your own riad, served by your landlords. It is often very sugary and usually consists of delicious fresh bread, Moroccan pancakes, pastries and homemade yoghurt and jam.
The traditional dish in Morocco is tajine, couscous, which is served in an earthenware pot with meat or vegetables. Basically, it's not easy to find vegetarian or even vegan dishes on the menus of Moroccan restaurants - unless you go to one of the scene restaurants in Marrakech. Nevertheless, we found a good option every time.
Morocco's markets are full of fresh and dried fruit and those who love dates, figs and raisins will get their money's worth here.
Religion
Since I got yelled at in Ghanas muslim North, for wearing shorts at the market, I am a bit careful in Arab countries when it comes to my clothing. You can't go wrong with long dresses or skirts, even at higher temperatures. A T-shirt is okay as long as the shoulders are covered and it is not extremely wide cut. As a tourist, you will attract attention everywhere anyway.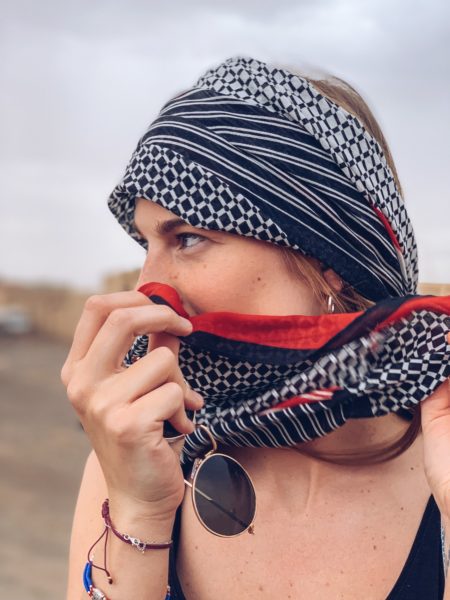 Morocco with kids
The fact that Moroccans are very open-minded and friendly is once again noticeable when you are traveling with children. It is almost impossible to walk through the streets with a small child without it being smiled at every few meters, talked to or even lifted and kissed without warning. My daughter, however, was quite enthusiastic about this cordial manner. Despite everything, the patriarchal structures are striking here too: my sister's son, who is almost the same age, was conspicuously often given preferential treatment.
Safety in Morocco
We have not been robbed, harassed or made uncomfortable in Morocco in any way. But as always: of course you can have different experiences and therefore you should follow the general safety instructions. This includes not carrying your valuables openly and avoiding dark alleys, as in most medinas (city centers) at night - especially if you are traveling alone.
Driving in Morocco
Morocco is an ideal country for a road trip and there are several reasons for this. Firstly, you drive almost everywhere through spectacular landscapes and you can stop wherever you like by car. Secondly, both the rental car itself and the fuel are relatively cheap in Morocco. Fully comprehensive insurance, child seats and navigation system could be booked without any problems. The navigation system itself, however, hardly helped us, especially in rural areas, and many places simply could not be found, so that we had to rely on our offline maps in the end.
The roads are often in very good condition and the traffic is also, even in larger cities, still pleasant compared to other countries. Despite initial concerns, even our first drive at night through the Atlas Mountains went without any problems.
Within larger cities, it makes sense to park the car in a guarded parking lot and pick it up again only when you want to drive on. The distances within the cities can be covered much more easily on foot or, if necessary, by taxi.
Police controls in Morocco
If you travel Morocco with a rental car, you will surely sooner or later get into a police control and as expected, the penalties are absolutely arbitrary. While we once had to pay the equivalent of almost seventy euros for an alleged speeding violation, we got away with an obviously illegal overtaking maneuver without penalty after having a nice chat with the police officer.
Basically it is advisable to drive only if you have an international driver's license with you and the car is insured on you to avoid trouble.
Morocco - the route
1. Marrakech
In Marrakech, everything happens around the Djemaa el Fna, the main square of the city, a huge market that borders directly on the souks (the typical "fixed" and covered markets) and some palaces. From here you can easily reach most of the attractions, such as the Jardin Majorelle, on foot.
2. Casablanca
Although Casablanca is clearly one of the less beautiful cities in Morocco and also we have used it only for an overnight stay, nevertheless, already the visit of the Hassan 2 mosque, one of the most impressive buildings of the country, is worth a visit.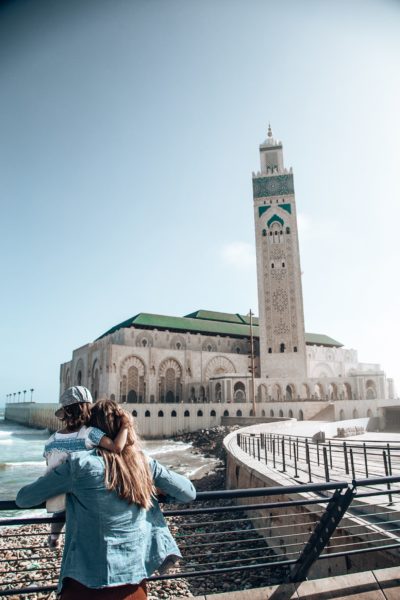 3. Chefchaouen
Chefchaouen - this is the famous blue city of Morocco. Here it really looks the same as on all the pictures. Every house is painted in a single, unmistakable blue, which makes Chefchaouen look like a pearl in the bare desert when you drive in over the mountains. But as Chefchaouen has become a very popular photo stop, the tourists crowd in the narrow alleyways and at some places, people even queue up in order to be photographed in front of a specially beautiful building or stairs. Therefore you don't have to plan more than one day for Chefchaouen.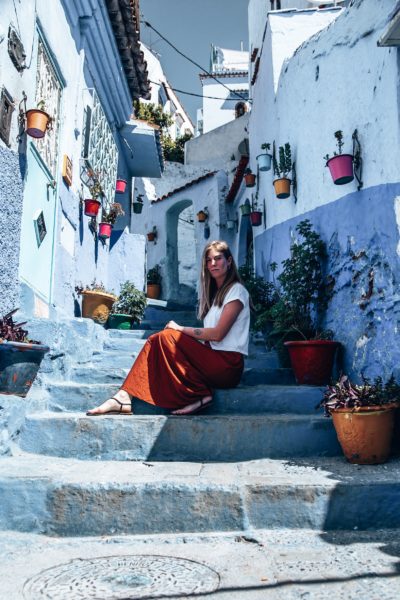 4. Fés
The old royal city Fés is hardly comparable with the very touristy Marrakech. The medina (old town) is the oldest and largest in all Morocco and the noise, the hustle and the many smells in the narrow streets are a fascinating mixture. Hardly two people can walk next to each other here and still scooters always manage to squeeze past you somehow. In any case it will take some time until you find your way out of this labyrinth.
5. Midelt
After about three hours of driving, you arrive in Midelt and thus in the middle of nowhere. Here we stayed overnight in one of the most beautiful Kasbahs of our whole journey. Kasbahs are the typical fortresses in Morocco, which are like a castle just outside the city, scattered in the mountains. With the Kazbah Izoran the owner has fulfilled a lifelong dream and built the entire building and all the furniture in it out of clay. There is even a playground for children at Kazbah Izoran and, as the family itself has three small children, lots of toys and entertainment.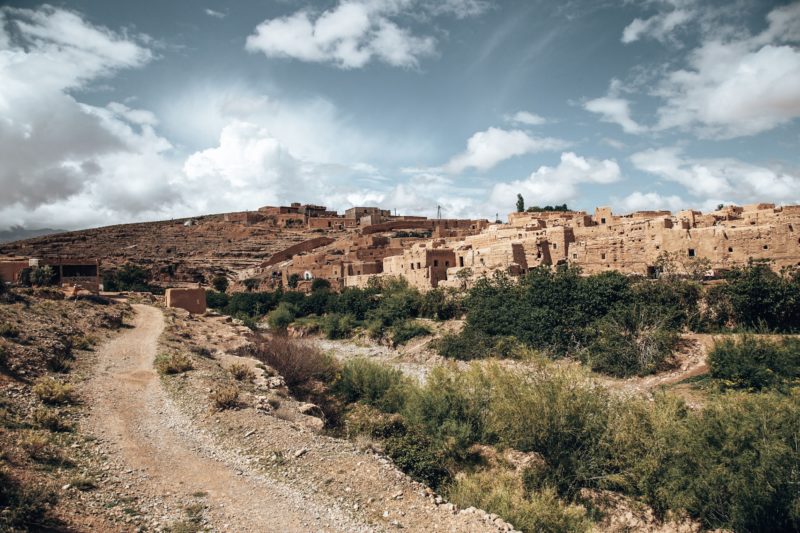 6. Merzouga: Off to the desert
The closer you get to Merzouga, the balder the landscape around you becomes and suddenly you see only desert as far as the eye can see. Merzouga itself is a small desert town, which actually only serves as a starting point for tours through the desert. Either by quad bike or camel you will be brought for one to three nights over dunes and past oases to a desert camp. You can leave your valuables and everything you don't need at the hotel in Merzouga, that organizes your tour. There you can change or freshen up before and after your stay in the desert.
There are countless operators for trips into the desert in Merzouga. Most of them offer accommodation in four to sixteen person tents. Usually there are four to five such tents in one camp. In the evening you eat together around the campfire, play music and sleep early so that everyone is back on their feet for the beautiful sunrise the next morning.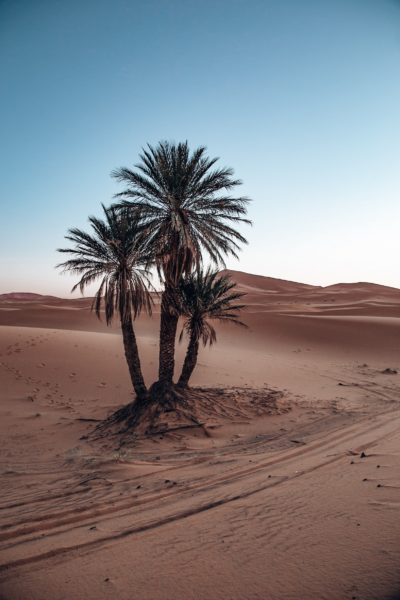 7. Dade Valley
The most spectacular part of our road trip was the stretch between Merzouga and Ait-Ben-Haddou. Through the Dade Valley and the famous Todra Gorge, we passed the oasis town of Skoura, wild rivers and through narrow gorges. Depending on the travel time some of them are not passable by car. So it is worth to inform yourself in advance.
8. Ait-Ben-Haddou
In the famous clay city of Ait-Ben-Haddou, series such as Game of Thrones have been shot. The old town, which you reach via a small river, is a single kasbah, a kind of fortress, built of clay, like a small town in itself. The narrow streets leading up to a spectacular view over the landscape have also been declared an UNESCO World Heritage Site.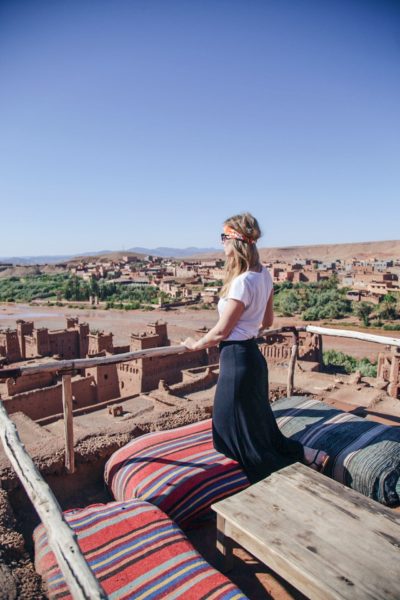 9. Atlas mountains
Back to Marrakech you go over the famous Tizi n'Tichka Pass at almost 3000 meters altitude. The winding road is once again a real highlight. It takes about five hours to reach Marrakech - not counting photo stops of course.